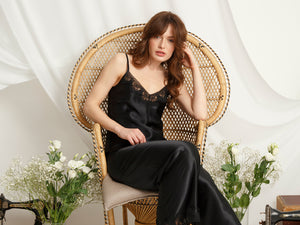 Handcrafted in Our Brighton Studio
Luxury silk lingerie and nightwear, designed and handmade in our Brighton studio
Launched in 2005, Ayten Gasson Lingerie has become recognised for their firm commitment to ethical manufacturing. Whilst demonstrating a passion for luxurious design and the importance of quality construction, designer Ayten Roberts is dedicated to supporting as many independent and ethical companies as possible, from lace mills to printers.
As Seen In
Gift Card
Can't decide between a teddy and a camisole set?
Why not treat someone special with an Ayten Gasson gift card?
Buy Now
★★★★★

Used the online shop to order it was a seamless process and the delivery was faster that's expected.


The quality of the garments is extremely high and worth every penny.

Dean H

Google Review
★★★★★

What a great find this shop is! Ayten's designs are exquisite, the garments are beautifully made, and customer service is flawless. Highly recommended.

Jonathon Social

Google Review
★★★★★

Really impressed with the quality and beauty of their lingerie! It's super stunning and the most comfortable.

I love the fact Ayten Gasson's products are sustainably and ethically created - something I think people are waking up to more.

Ria S

Google Review
★★★★★

I have bought multiple items from Ayten and I must say that the whole experience is positively delightful.

The service from Ayten is both personal and efficient, with quick responses to questions. Everything is beautifully packaged and you feel really special when the parcel arrives.

Nelle R29

Google Review
★★★★★

The quality is exceptional and the people are utterly lovely.

The pieces I bought were truly beautiful but more importantly incredibly soft and comfortable. I cannot recommend Ayten Gasson more highly.

Melinda Wells

Google Review
★★★★★

The Bella Black Silk High Leg Teddy is simply elegant. Thank you Ayten, I love your work and your customer service is impeccable.

Michael Huber

Google Review
★★★★★

Absolutely fantastic customer service!

All items are so beautiful and obviously of high quality. They fit perfectly (I ordered size L) and I'm glad I found your shop online. In Germany I have not found anything that is comparable to silk underwear in terms of service and quality.

Mosh Pink

Google Review